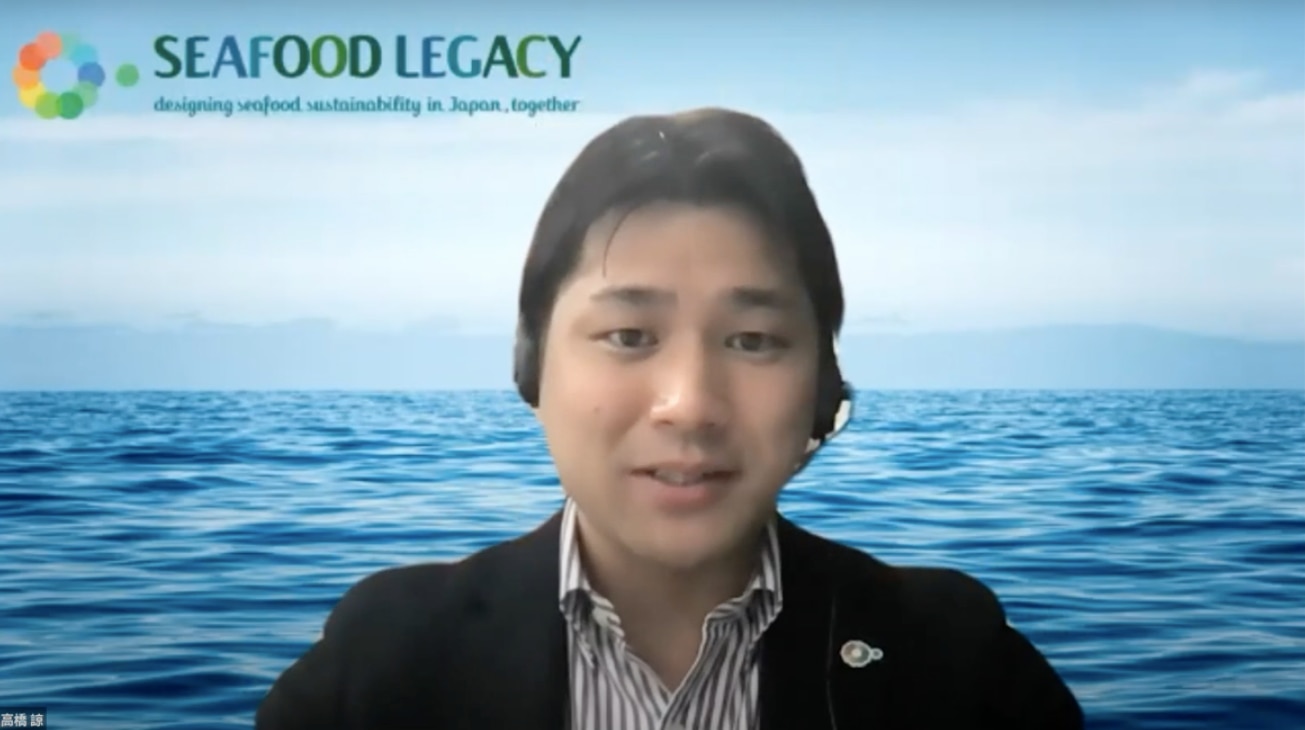 How to Leverage SDGs Goal 14 on Business? – Seminar Report 1
Webinar Series "SDGs Goal 14 Startup Seminar: What Seafood Companies Can Do for Not to Fall behind the Time"
Session 1: "What Seafood Companies Learn from Other Industries about their Role in the Era of the New Normal"
Organizer: Seafood Legacy Co., Ltd.
Facilitator: Ryo Takahashi, Business Engagement Officer, Seafood Legacy Co., Ltd.
The webinar series "Let's start working towards SDGs Goal 14: Webinars for sustainable startups on what seafood companies should do to avoid being left behind" is a series of four webinars focused on the practical action that each company can take to transition to a more sustainable future along with the seafood industry at large.
The webinars provided useful information for companies in the seafood industry as well as those outside the seafood industry that are looking to introduce sustainable seafood to their employee cafeterias.
Topics covered during the webinars include the current environment surrounding sustainable seafood, the benefits of introducing sustainable seafood, the risks posed to a company's business continuity by neglecting sustainable seafood, as well as specific methods and approaches for integrating sustainable seafood into a company's existing operations and new businesses.
This blog is a brief outline of the content of Session 1.
Examining the current situation in the world: Why sustainability?
Akiko Minami, Forest Programme, WWF Japan
<Key Takeaways>
- The sustainability of human society and our economic activities is supported by the earth's environment.
- The destruction of the environment through our economic activities has made it impossible to create sustainable models.
- Certification schemes and for environmental and social regulations should aim for sustainability.
- Frameworks such as amendments to existing laws have begun to be established.
The first presentation provides an overview of the global trends in the forestry sector. Ms. Minami explained that deforestation caused by human consumption activities has become increasingly severe in recent decades, which has resulted in a loss of biodiversity. The primary cause of deforestation is the expansion of agricultural land and plantations. Examples were given to illustrate this include the production of palm oil in Indonesia and Malaysia and the conversion of forested areas into cattle ranches in eastern Australia.
How should companies and society respond to the reality that our consumption activities have impacted the environment and created social problems? This has become a subject of much discussion over the last two decades, especially in Europe and the United States, which has driven the global trends behind sustainability.
Following the establishment of the United Nations Environment Program (UNEP) in 1972 and the United Nations Conference on Environment and Development (the Earth Summit) in 1992, companies began to take action in the 2000s by embracing ideas such as corporate social responsibility (CSR) and creating shared value (CSV). In the forestry industry, companies that engaged in procurement without due regard for the environment started to be perceived as being complicit in climate change. This led to the establishment of procurement policies for each company, with the companies that are deemed to be environmentally and socially conscious attracting greater investment and financing.
In the second half of her presentation, Ms. Minami touched on the challenges associated with palm oil. On the island of Borneo, a palm oil production area, around half of its forests had vanished by 2015. This caused a decline in wildlife, conflicts over land between companies and local residents, and environmental damage suffered by the local residents. Who bears responsibility for all these problems?
In truth, the responsibility for these problems lies not only with the producers, but also with the companies who knowingly (or unknowingly) use the products. Therefore, a global trend in recent years has been the push to distance entire supply chains (from production sites to retailers) from deforestation and environmental degradation. An example of a specific initiative aimed at achieving this is the set of standards behind the RSPO (Roundtable on Sustainable Palm Oil) certification system that was launched in 2004.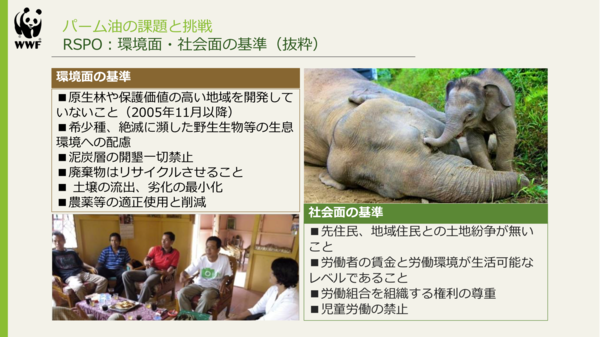 ©WWF Japan
Ms. Minami concluded her presentation by pointing out that each company has ingredients specific to it that can pose serious issues, so it is imperative to first identify these ingredients, prioritize them according to their respective risks, and tackle the issues in turn.
< Q&A Session (excerpt) >
Q: How can companies overcome the hurdles of carrying certified products?
A: It's true that the hurdles are high, especially for small producers, considering the costs associated with certification. However, support for these producers from large producers and governments is available. Even if small producers are unable to obtain certification, efforts are being made to provide training aimed at closing the production gap and helping them to increase production without having to expand their agricultural land.
What are some best practices for companies in view of current trends in the fisheries industry?
Kaijun Sun, Planning and Sales Department, Seafood Legacy Co., Ltd.
<Key Takeaways>
- Products that fail to address environmental and social concerns will be eliminated.
= Transparency in distribution is a best practice for companies.
- Start by identifying where and how products are produced.- A new customer base with a set of new values has formed.
- The corporate culture of companies will play a part in their success in this era.
Japan's seafood production peaked in 1984 and has continued to decline ever since. On the other hand, global seafood consumption has doubled in the past 50 years, and it has become vital for fisheries to be more sustainable.
In view of these circumstances, social trends have also evolved dramatically. As far as the law is concerned, the Fisheries Act has been thoroughly revised for the first time in 70 years with the aim of achieving both resource sustainability as well as the sustainability of fishing villages and local communities. The revised Act includes the Fisheries Agency's first-ever commitment to numerical targets, such as its goal of restoring fisheries production volume to 4.44 million tons by 2030. In addition, the Seafood Distribution Regulation Act will go into effect by December 2022. In response to these changes, companies will be required to make their supply chains more transparent to eliminate products associated with IUU fisheries and slave labor from their supply chains.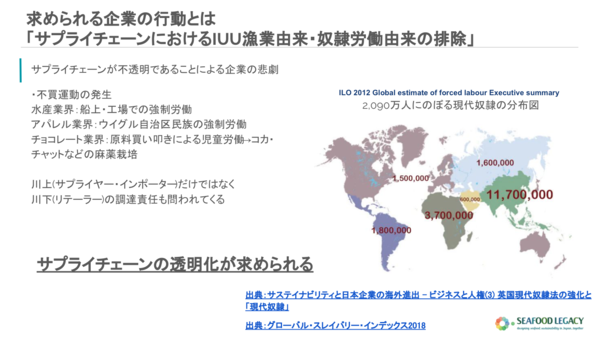 In light of these trends, Mr. Sun proposed four actions that companies can take.
1. Support the purchase of species subject to TAC (Total Allowable Catch) limits that are based on MSY (Maximum Sustainable Yield)
[Action] Increase the number of sustainable species by supporting the purchase of such species
[Benefits] Proactive purchasing and support in this regard will improve the state of fisheries in various regions. This in turn provides wide-ranging benefits for not only producers and consumers but also everyone else involved, including businesses and local economies.
2. Understand the currently certified seafood carried by your company and expand the proportion of such products
[Action] Identify the range of certified products currently carried by your company and expand the proportion of such products
[Benefits] In addition to being an easy action to take, doing this can allow your company to differentiate itself from other companies.
3. Set up a traceability system and ensure the transparency of your supply chain
[Action] Eliminate the use of ingredients associated with illegal activities by understanding the background of products carried by your company
[Benefits] By identifying where the risks and gaps exist in your supply chain and ensuring greater transparency, you can eliminate the risk of using ingredients associated with illegal activities.
4. Approach projects that are working on achieving sustainability
[Action] Support FIPs and AIPs by purchasing certified items and invest through crowdfunding
[Benefits] This can expand the range of sustainable species beyond certified seafood and amplify the positive impact on the region and local economy where these projects are implemented.
The above initiatives allow companies to not only enhance their corporate value but also appeal to investors and consumers while ensuring the sustainability of product supply. They can also attract future customers by appealing to consumers of future generations for whom the SDGs are of great interest.
Sun concluded his presentation by reminding us that in an age where customers with a set of new values are selecting companies based on their corporate culture, a best practice for companies is to work on achieving transparency in distribution, i.e., to identify how their products are produced.
In this webinar, the speakers looked at both examples and trends from other industries as well as the current situation in the fisheries industry. By learning how companies and organizations in other industries have addressed urgent social issues and understanding what we can do to contribute to current efforts, this webinar has allowed participants to reconsider what the future of the fisheries industry might look like.
Original Japanese text by: Ryo Takagi