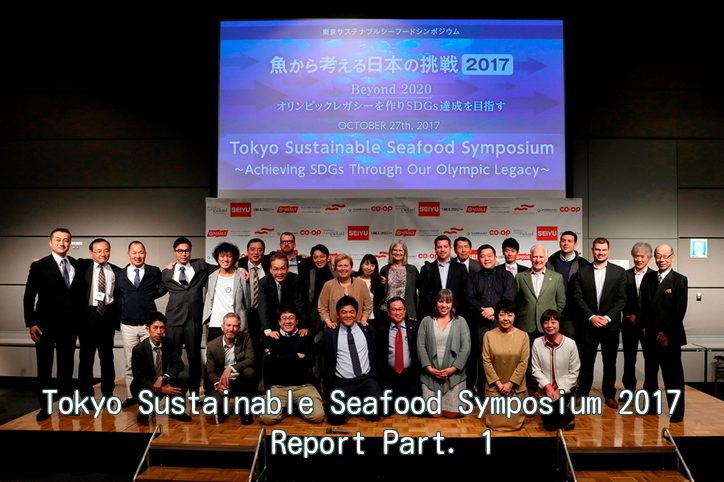 Tokyo Sustainable Seafood Symposium 2017 Report
In the last few years, market and social engagement towards sustainable seafood in Japan has seen a significant increase. Nowhere is this progress more evident than at the Tokyo Sustainable Seafood Symposium, hosted this October 27 in Shinjuku and featuring addresses from top business and government leaders. Now in its third year, the event was attended by over 400 guests from food manufacturing, retail, food service, fisheries, government, and technology companies. This year's topic, "Achieving SDG's Through Our Olympic Legacy," examined the changes Japan has been making and the new initiatives to transform the market in preparation for the global spotlight shining on Tokyo for the 2020 Olympics.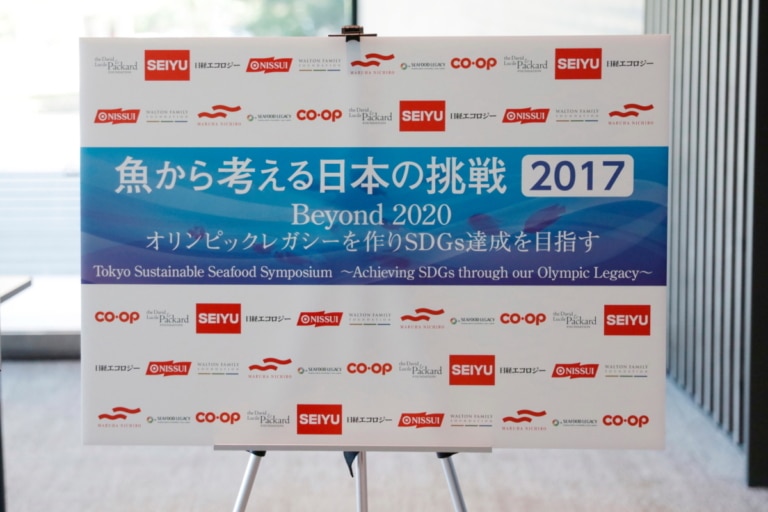 Special thank you to our sponsors: Co-op Japan, Maruha Nichiro, Nissui, and Seiyu
A keynote speech by Margaret Spring, Vice President of the Monterey Bay Aquarium, was followed by a lively discussion between Dr. Spring and Sakana-kun, a Japanese celebrity fish scientist, about the sustainability of traditional Japanese fishing methods and the need to establish science-based assessment in Japan. Additional special guest speakers included Dr. Masanori Miyahara, President of the Japan Fisheries Research and Education Agency and advisor to the Minister of Agriculture, Forestry, and Fisheries, sharing the government's efforts to revitalize Japanese fisheries through strengthened research, management, and IUU measures.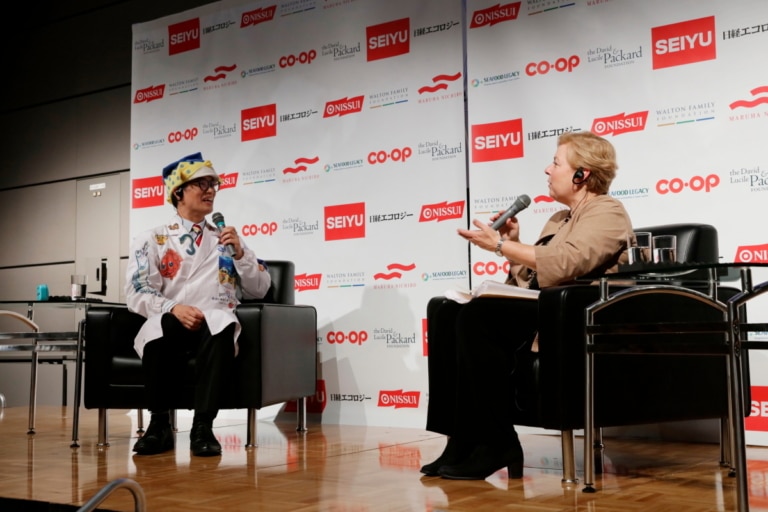 Left: Sakana-kun, Right: Margaret Spring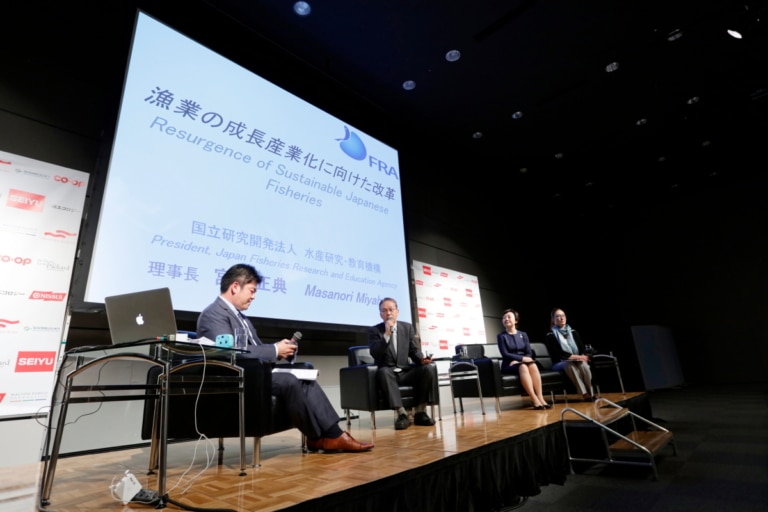 Talk Session 1: How Far Have We Come? Future of the Japanese Seafood Market
All sessions were simultaneously translated in English and Japanese, allowing for fluid discussion among panel members and live questions from the audience. Panel sessions covered a wide array of topics from IUU and human rights to fisheries improvements and certifications to market-led initiatives by food service and retail leaders.
Market Engagement
Seafood Legacy was pleased to welcome to the symposium a broad array of business speakers. Retailer leaders AEON, Seiyu, and the Japanese Cooperative Consumer's Union joined panel discussions. ANA Holdings and Park Hyatt Tokyo shared their experiences within the travel and food service sector. Technology giant Hitachi spoke about the role of technology in helping companies to establish traceability and manage a global supply chain. For the first time at the symposium, global fishing leaders Maruha Nichiro and Nippon Suisan both took to the stage, to provide insights on sustainability efforts from within their companies.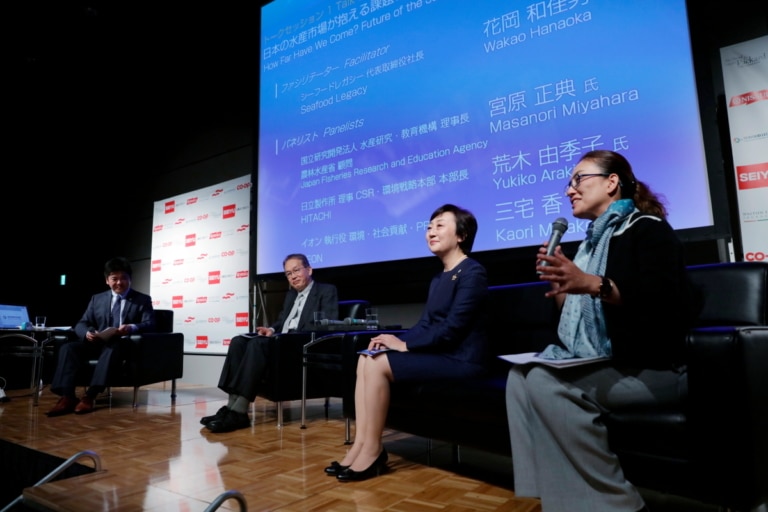 Talk Session 1: How Far Have We Come? Future of the Japanese Seafood Market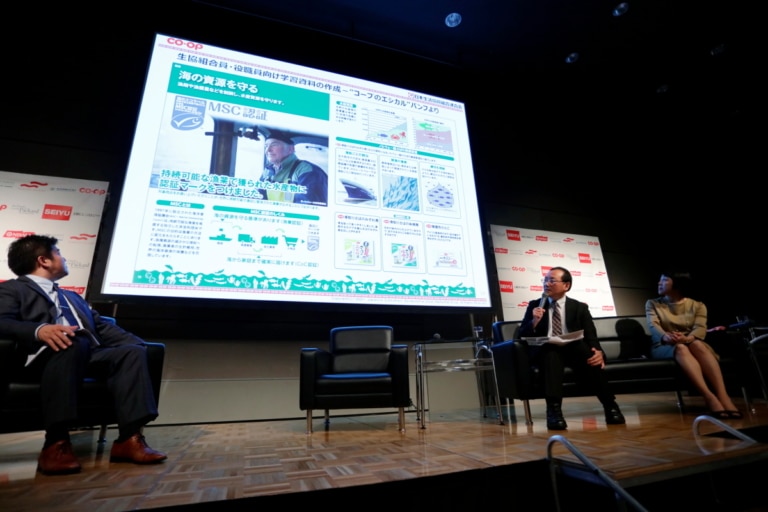 Talk Session 3: Ocean to Table: Where Does Sustainable Seafood Come From?
Partnerships and Globalization
The major themes of the day cutting across all panels were the importance of partnerships and the globalization of Japanese business perspectives. "There's not much that corporations can do alone, but in partnerships we can accomplish a lot more," said Chikako Miyata, Vice President of Brand and CSR at ANA Holdings. The creation of business-to-business, business-to-NGO, and business-to-science collaborations was called out as a necessity to success. Nippon Suisan announced their partnerships with WWF for sustainable seafood week, as well as their commitment to SeaBOS and GSSI as a partner company. It is a great step forward for the global sustainable seafood community that fishing leaders Maruha Nichiro and Nippon Suisan joined the global precompetitive business platform and value the importance of collaboration in order to achieve SDGs and sustainable and responsible fisheries.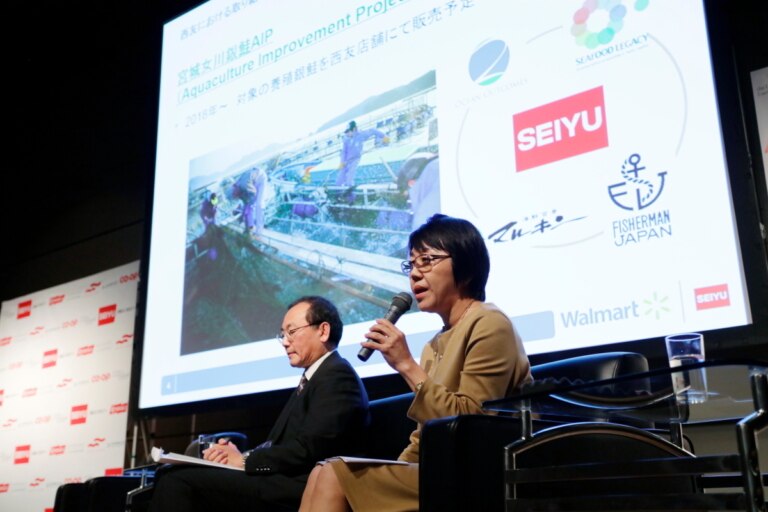 Kumie Wama / Seiyu GK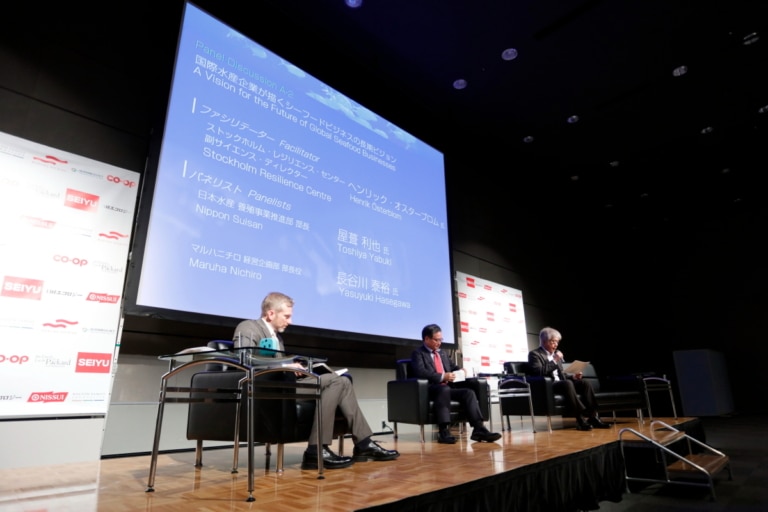 Panel Discussion A-2: A Vision for the Future of Global Seafood Businesses
Additionally, Japanese speakers emphasized the improved alignment of Japanese practices with global norms, noting the necessity of engaging not just in sustainability but also in human rights issues. The incentives comes from external as well as internal sources. Says ANA's Miyata, "Now that we are a global company, we realize we will be the focus of attention. Whether we like it or not, we have to expand our perspective from domestic to global." The incentive to engage in global business practice norms is also a way for Japan to protect their own culinary culture. "Fish is a natural resource that needs to be protected by the entire world; Japan must be part of this," stated AEON's executive officer of CSR Kahori Miyake, calling for engagement from all sectors in Japan.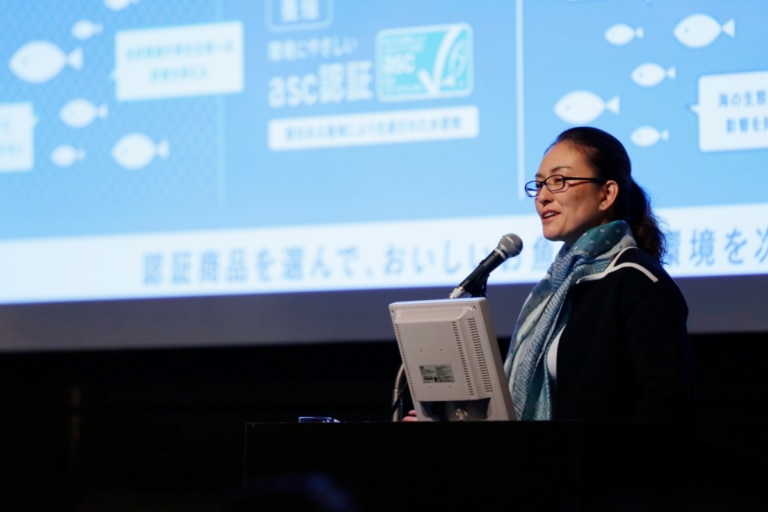 Kaori Miyake / AEON
Towards 2020
The sense of urgency and the need for multi-stakeholder action is palpable in Japan, and the participation of an ever-increasing number of business and government stakeholders to the discussion is a promising start to the work ahead. We are proud of the commitments that have been made, and are working hard to build the partnerships – between companies, between sectors, and between countries – that are necessary to solve the urgent issues surrounding fisheries management. Together, we collaborate to secure a future with productive and enduring seas.