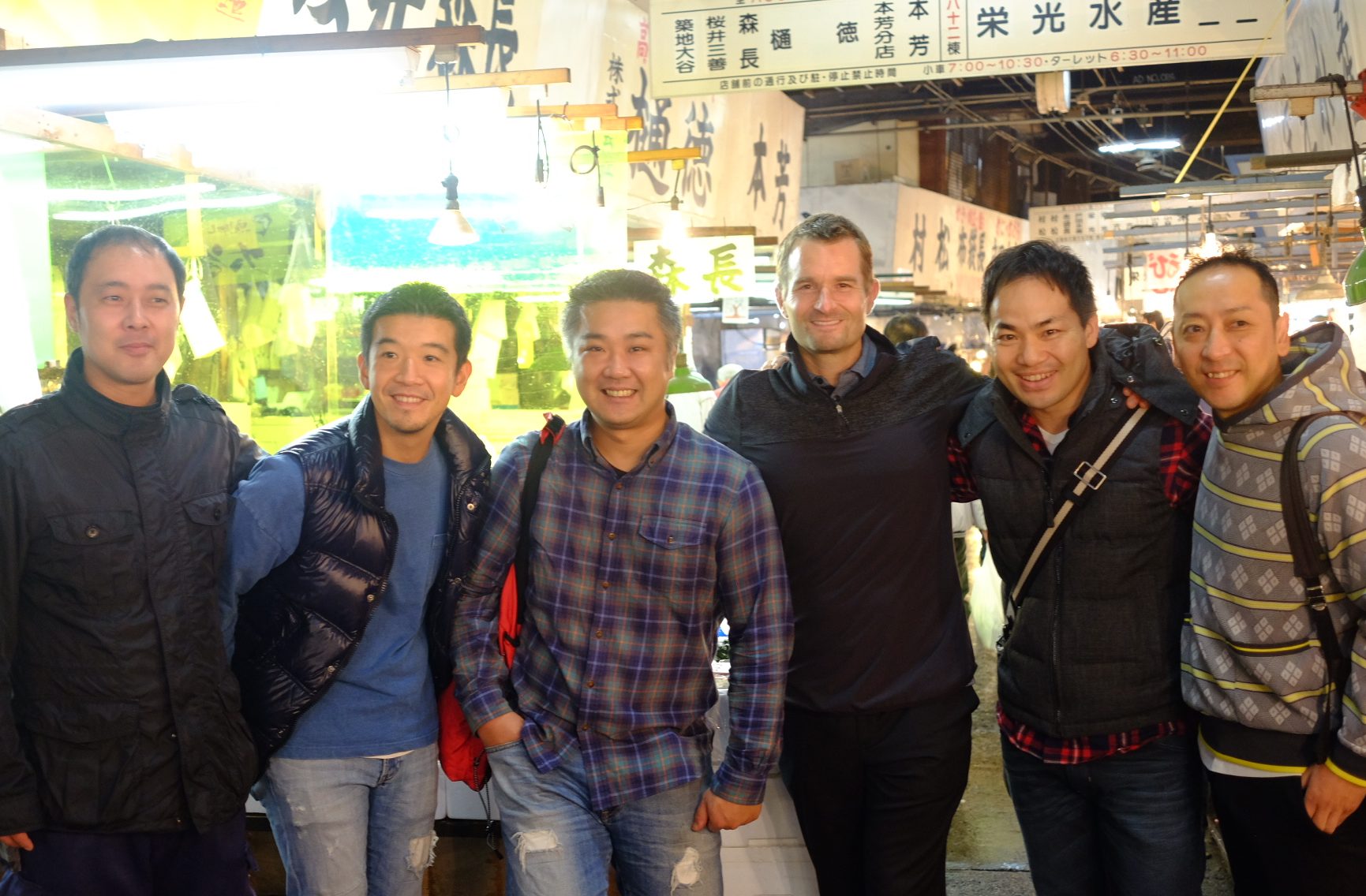 Tsukiji Fish Market Tour: Sustainable Seafood Chefs Network Expands to Japan
If you are a seafood lover, exploring Tsukiji Fish Market must be on your bucket list. I can't imagine how exciting that opportunity would be if you were a seafood chef.
This year, we invited Ned Bell, executive chef of Ocean Wise and this year's seafood champion, to share his experience and sustainable seafood culinary journey at the Tokyo Sustainable Seafood Symposium.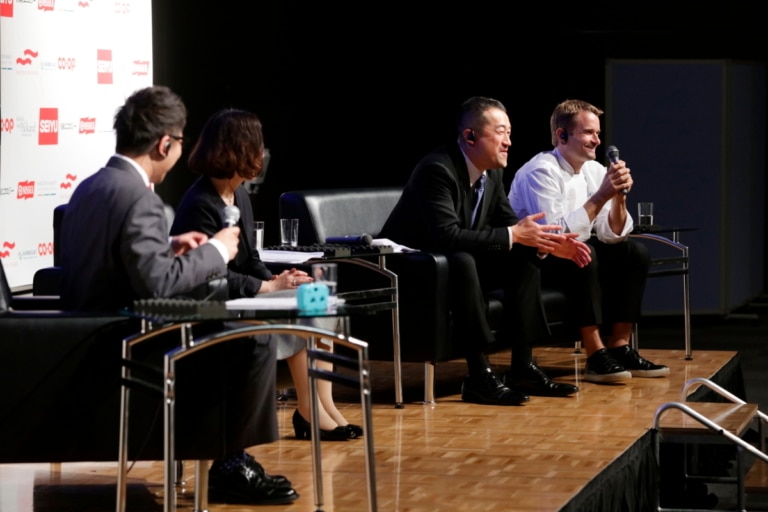 Tokyo Sustainable Seafood Symposium: Sustainable Seafood in Travel and Culinary Industry
The morning of the symposium, four chefs from Chefs for the Blue, a group of Tokyo's top chefs exploring applicable approaches for raising awareness of sustainable seafood in Japan, met with Ned to show what is it like to be a chef in Tokyo where you have access to the biggest fish market in the world. Better see once than hear, we'd like to share our experience in Tsukiji inner fish market.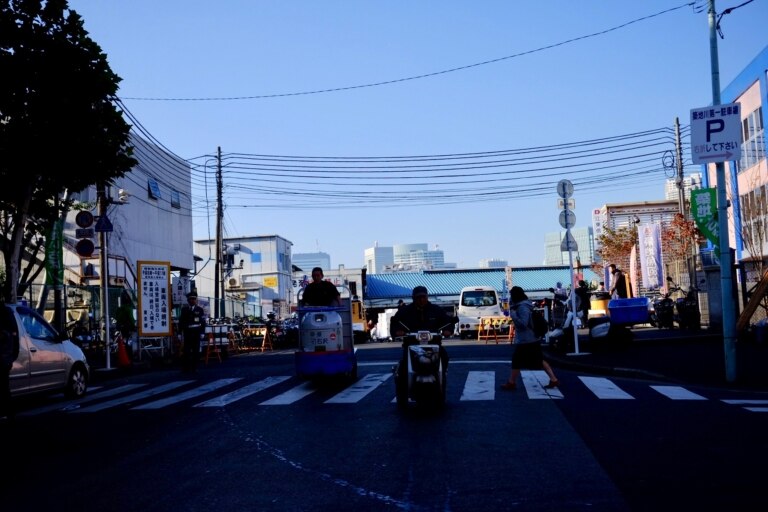 Entrance of Tsukiji innner fish market.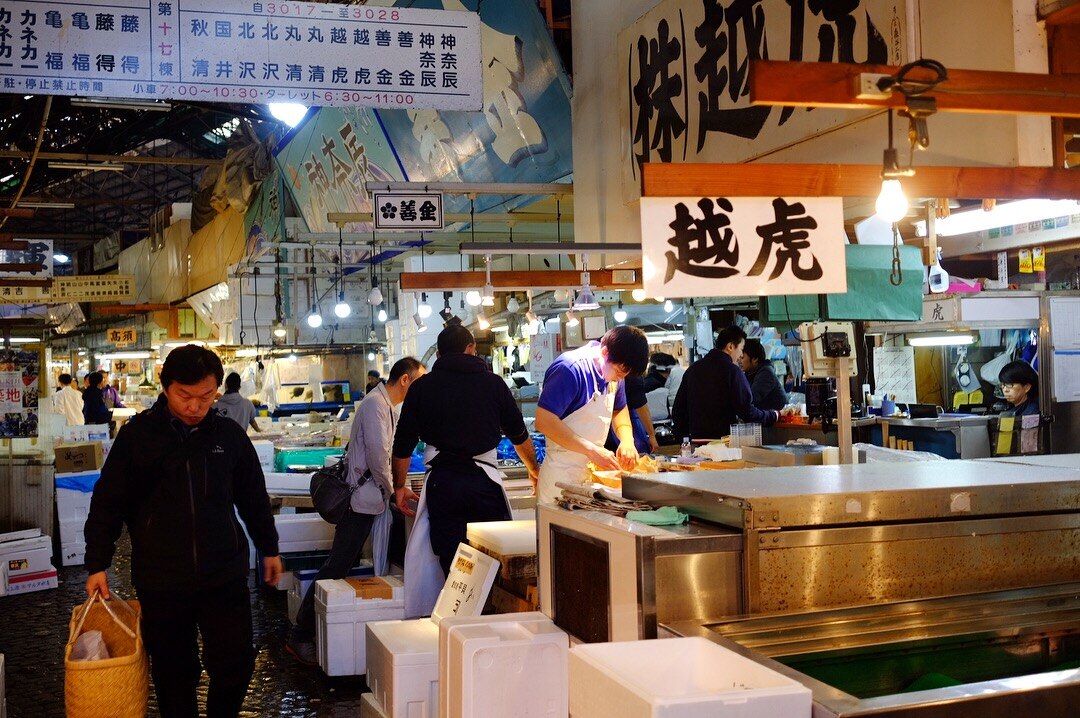 Fish Wonderland!
Our first stop was one of the biggest tuna wholesalers in the market. We were welcomed by this giant Atlantic Bluefin.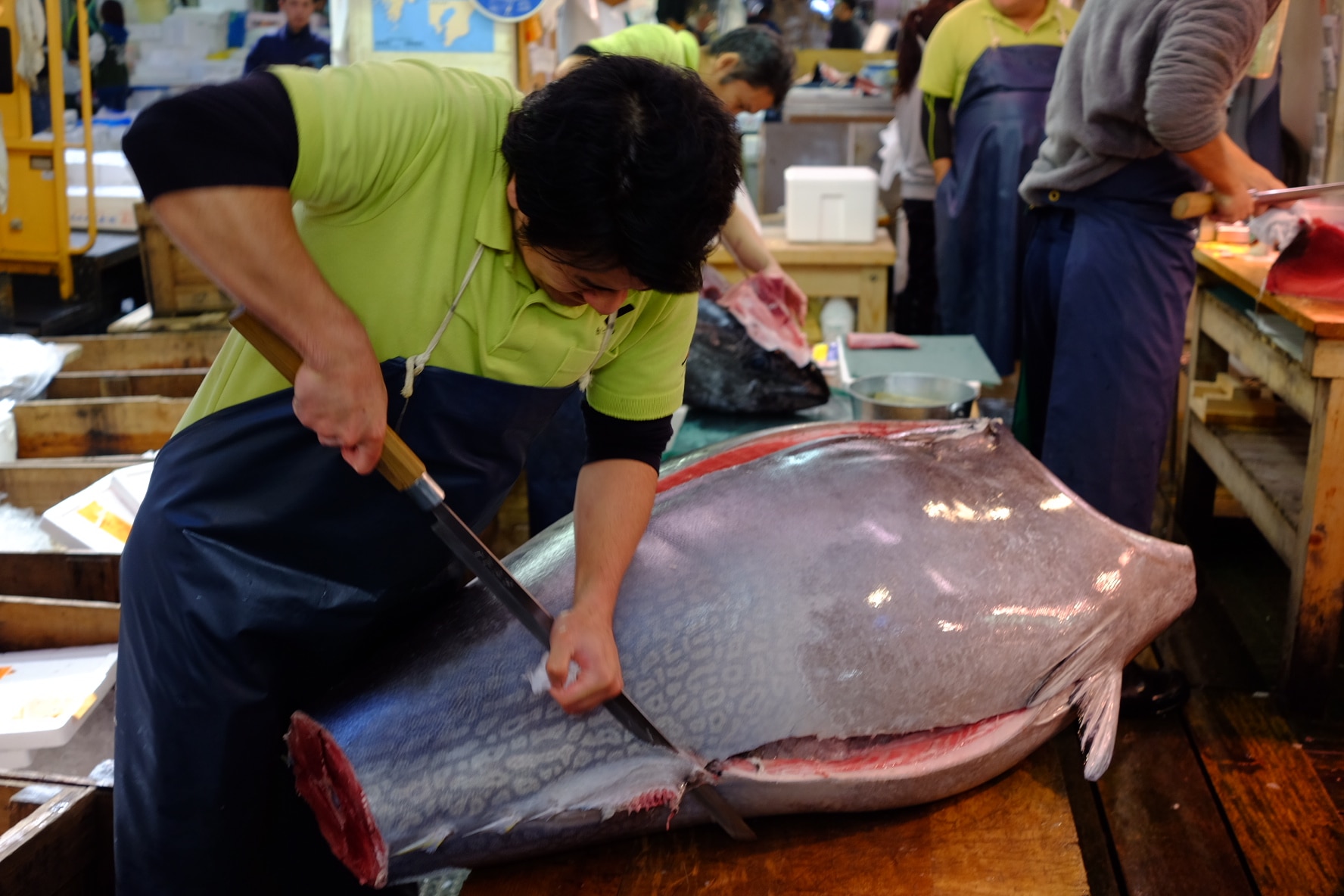 Different kinds of knives and saws are used to cut tuna.
Atlantic Bluefin stock is recovering from overfishing and ICCAT recently announced that they will increase the quota by 50% by 2020. Compared to the Pacific Bluefin, this stock is doing well. This specific tuna was caught by longline in Prince Edward Island and flew to Japan unfrozen. How do we know? All Canadian caught tuna has a tag which represents how and where the tuna was caught.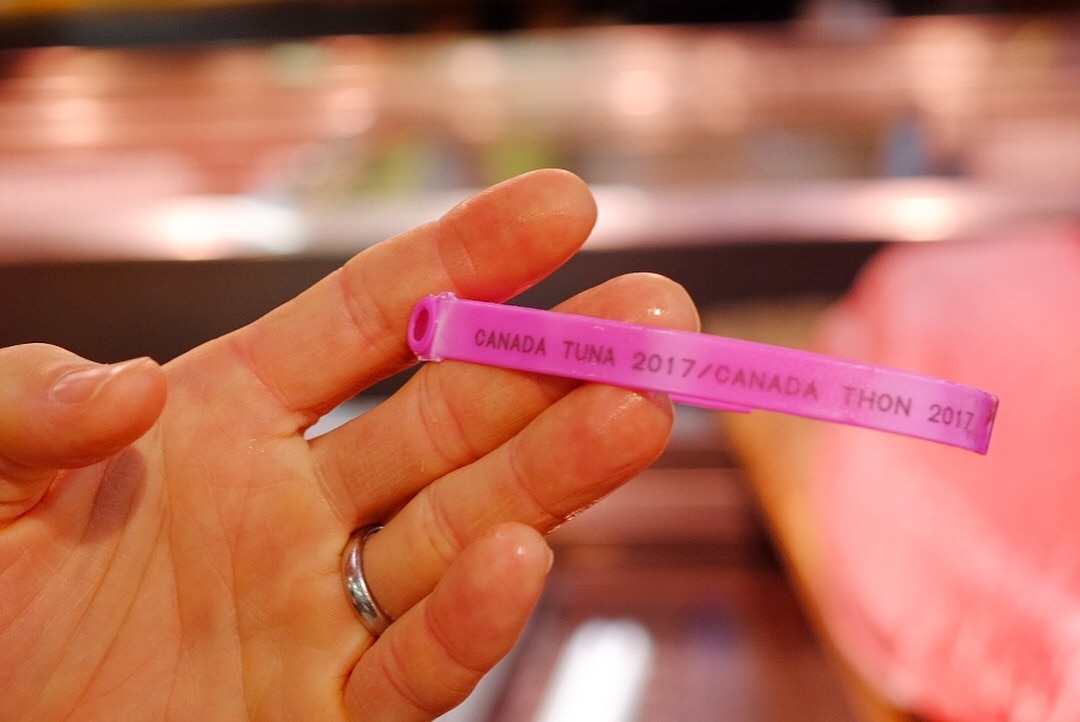 This tag identifies tunas origin.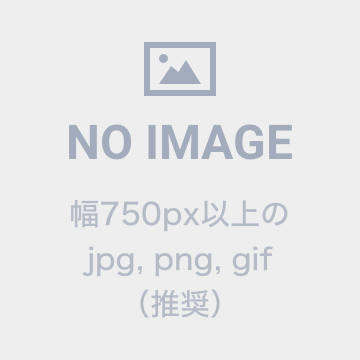 Special thanks to the shop master, who kindly gave us a quick lecture about tuna.
Although there is a huge discussion about Bluefin fisheries and tuna consumption in Japan and globally, this is a big part of Japanese culture. Exploring Tsukiji Fish Market made us realize how deeply Japanese culture is attached to seafood, especially tuna. Achieving seafood sustainability in Japan is a very complicated and long journey but it has to be done to preserve our culture.
In the Tsukiji inner market each wholesaler has its specialty. One only sells tuna whereas this shop only sells shrimp, but a variety of shrimp.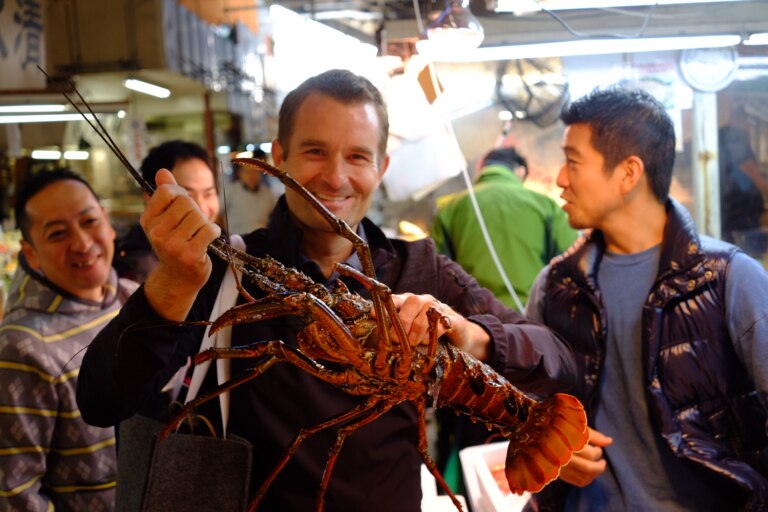 Japanese spiny lobster from Nagasaki.
The master of the shop mentioned that the lobster market has changed drastically over the past decades. Originally, Japanese lobster was more expensive and valued than imported ones. However, after major lobster exporting countries developed robust regulations and policy to protect the local lobster stock, the price and value of imported lobster increased. Some Japanese fisheries have mistakenly view this as an opportunity and started catching more lobsters from their water. Although there are some fisheries which has voluntarily closed season to protect the stock, Japan needs better governmental regulations and policy to support and maximize local conservation effort.
On the other side, abalone fisheries have benefitted from the voluntarily closed season. This not only protects the stock but it also allows fisheries to sell the abalone in its best season with good price. The closed season differs between regions, which keeps the steady supply into the market.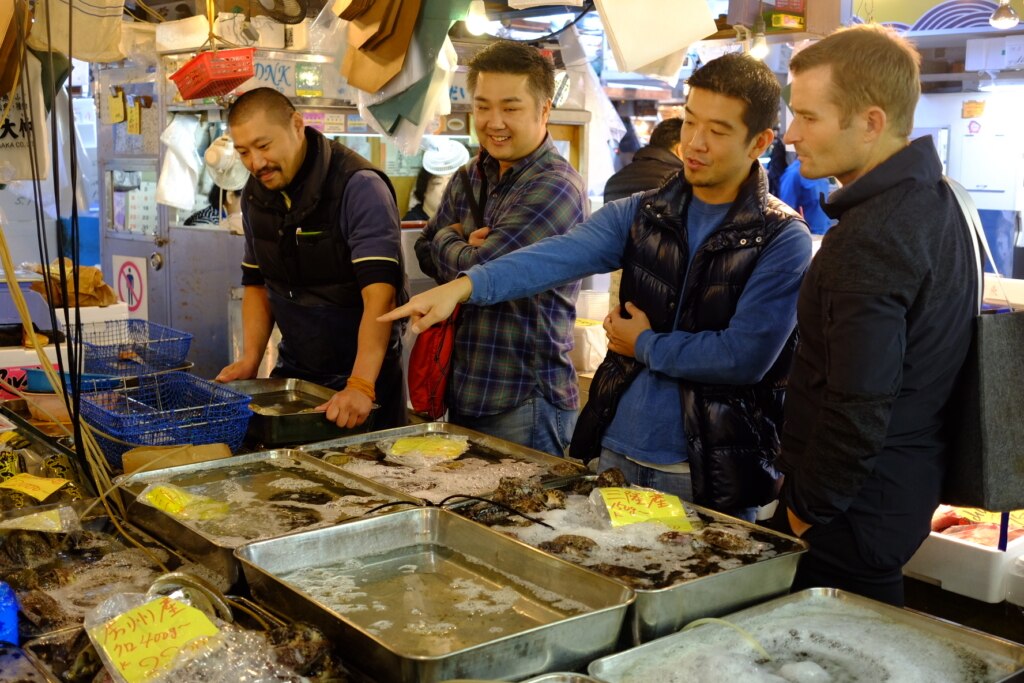 Abalone everywhere!
The last stop showed the beauty and depth of Japanese fish eating culture. Red seabream arrived Tsukiji the same morning alive, and the master prepares the fish for each customer. What was surprising was that the master knows exactly how each customer cooks the fish and he prepares the fish perfect for that specific cooking methods. For instance, if the fish is going to be served as sashimi or sushi, the master removes the nerve from fish's nostril to keep the fish as fresh as possible and keep the figure clean. If the fish is going to be steamed or grilled, different methods are performed by the master to create the best flaky and light texture. Cooking starts here, in Tsukiji.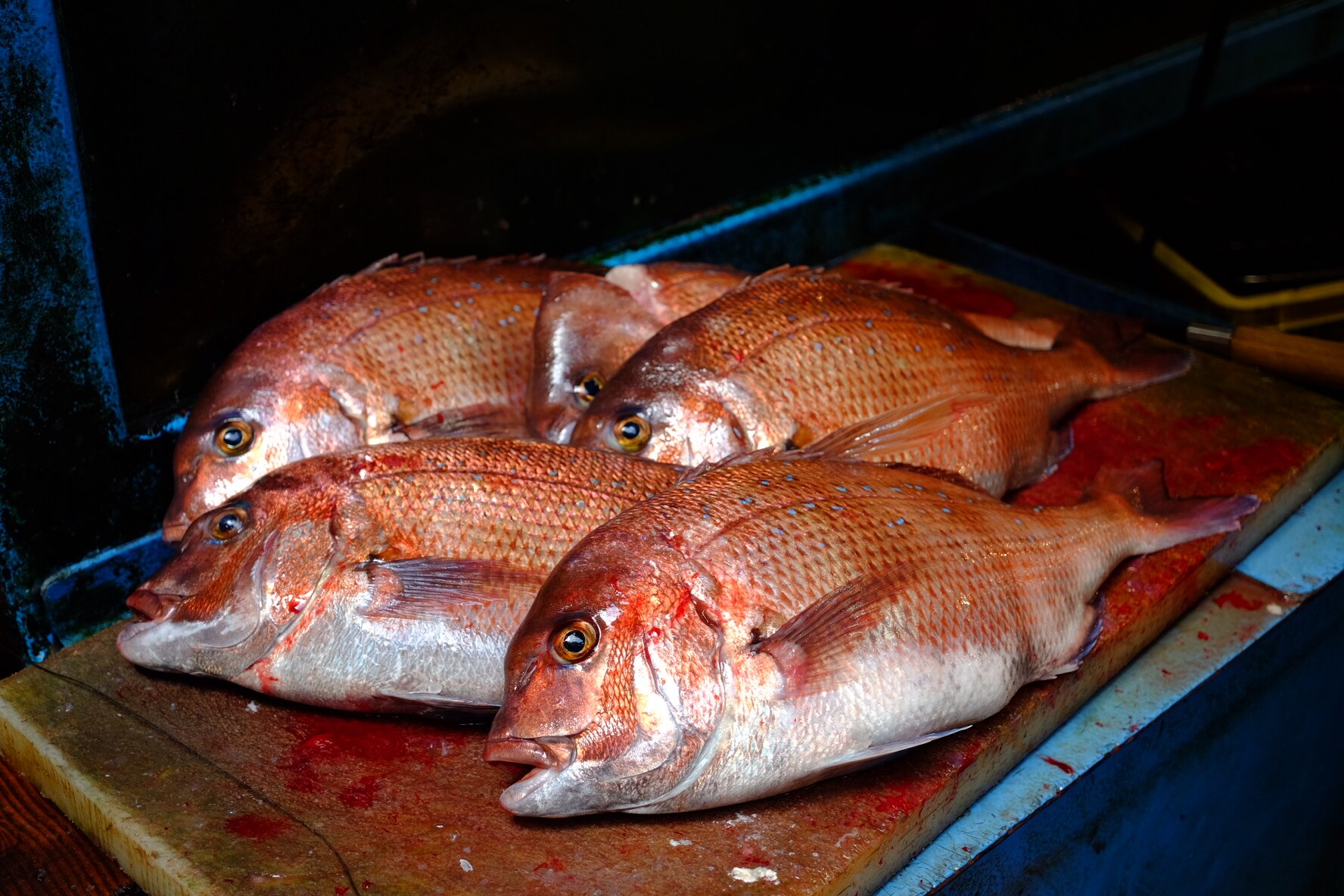 Red seabream after Shinkei-Jime, nerve removal.
Although society has different expectations toward chefs and culinary culture is different, one thing connects all chefs. They are passionate about serving good food for their customers, friends, and family. Cooking is more than just the delicious dish served at the dinner table. It all starts from taking care of our natural resource. It was very powerful and meaningful morning that chefs with different background connected, exchanged thoughts and experiences, and promised future collaboration to raise awareness and save our seafood culture for future generations.
Special Thanks to:
Shinsuke Ishii / Sincere (French)
Fumio Yonezawa / Jean-Georges Tokyo (French)
Ryosuke Tamura / Azabu Choko (Japanese-Chinese)
Yoshihisa Akiyama / Mutsukari (Modern Japanese)
Tokyo's top chefs community to learn and raise awareness about sustainable seafood. They actively engaged in Tokyo's food truck events and talk shows to serve sustainable seafood and communicate with consumers.
Based in Vancouver, Ocean Wise seafood program works directly with restaurants, markets, food services and seafood suppliers to ensure they have the most current scientific information regarding sustainable seafood and to help them make ocean-friendly buying decisions.