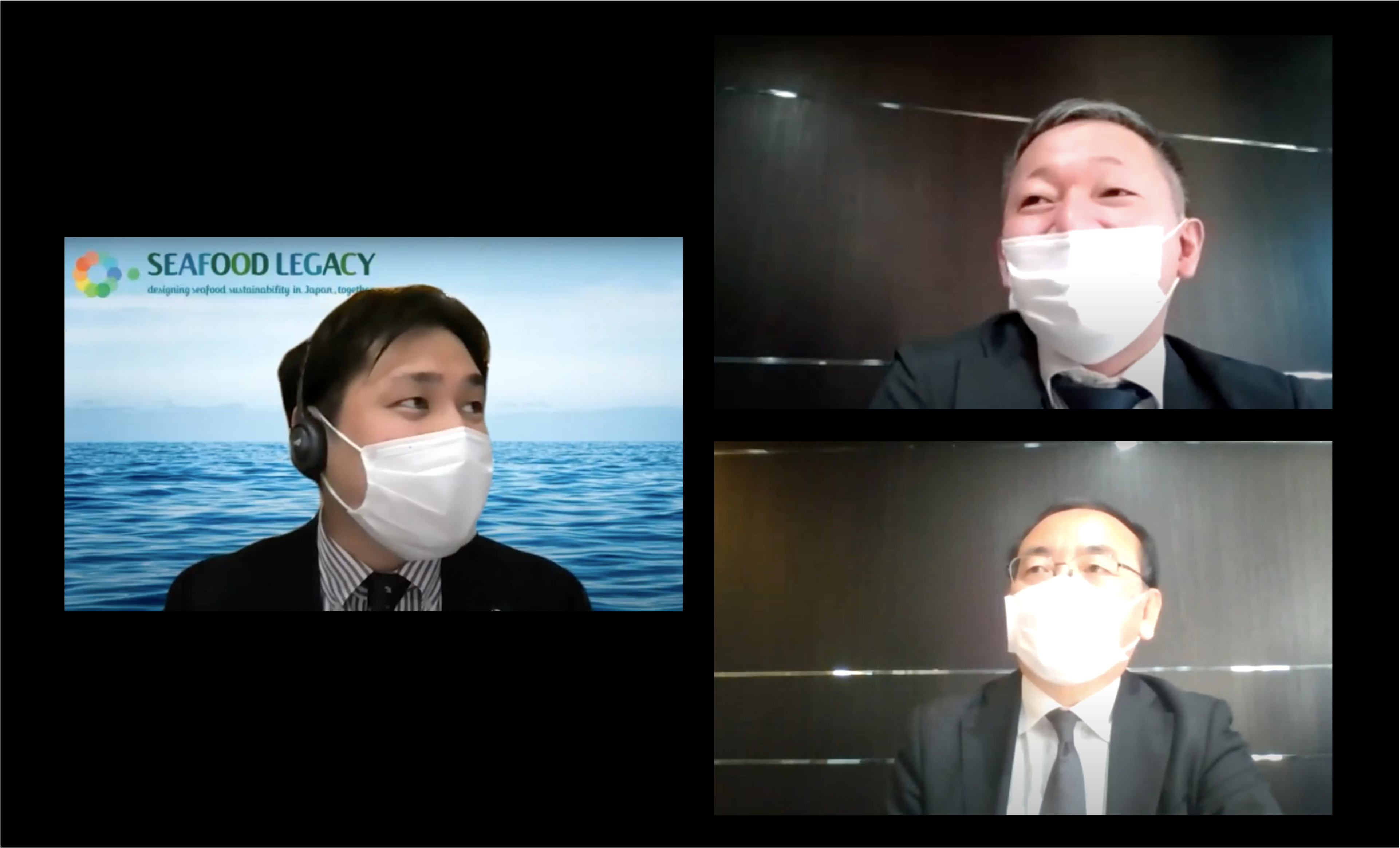 How to Leverage SDGs Goal 14 on Business? – Seminar Report 3
Webinar Series "Let's start working towards SDGs Goal 14: For sustainable startups on what seafood companies should do to avoid being left behind"
Session 3: Sustainability Initiatives for Corporate Branding
Organizer: Seafood Legacy Co., Ltd.
Host: Ryo Takahashi, Business Engagement Officer, Seafood Legacy Co., Ltd.
The webinar series "Let's start working towards SDGs Goal 14: For sustainable startups on what seafood companies should do to avoid being left behind" is a four-part seminar that explains practical ways to make the seafood industry and the companies' own businesses sustainable.
This seminar shares useful information for companies in the seafood industry and companies in other industries who are considering introducing sustainable seafood in corporate cafeterias, etc.
The seminar presents the environment surrounding sustainable seafood, the benefits of introducing it, and the risks to the business sustainability of not introducing it, as well as offering specific methods and approaches for incorporating sustainable seafood into new and existing businesses.
The following is a brief introduction to the contents of Part 3. (Part 1 and Part 2)
Initiatives by JCCU toward sustainable sourcing and consumption of seafood
Satoshi Matsumoto, Merchandising Division, Japanese Consumer Co-operative Union
<Key Takeaways>
- Appealing placement and advertising of products to communicate with consumers increased awareness of certified seafood
- Providing sustainable seafood in an accessible form has encouraged consumers to choose it of their own accord, and is leading to solving issues
At the beginning, Mr. Matsumoto spoke about the efforts by the Japanese Consumers' Co-operative Union (hereinafter, "JCCU"). JCCU has previously established initiatives toward a sustainable society, releasing the "Ideal of Japanese Consumer Co-ops Movement for the 21st Century" in 1997, and the "Co-op Action Plan for SDGs" in 2018.
In May 2021, they released the three major documents below.
- Consumer Co-op 2030 Environmental Sustainability Policy
It is composed of the "10 Action Guidelines" and the "2030 Goals."
- JCCU "Basic Policy on Responsible Procurement" for CO•OP Brand Products
This policy aims to build "responsible procurement" that considers human rights and the environment and monitors the entire supply chain. It sets forth five policies, including increasing eco-labeled products and building a traceability system in the seafood sector.
- "2030 Goals for CO•OP Brand Products"
It established sustainable procurment goals regarding all raw materials for 2030, with the following goal for the seafood sector. "With regard to specification-designated products and fresh marine products that use marine products as the main raw material, we will increase the share of supply value of products certified under the certification scheme approved by GSSI to 50% or more, with an emphasis on expanding MSC/ASC certified products."
JCCU had previously used its own unique logo for environmentally-conscious products since the 90s, but in light of social trends, they adopted third-party certification standards such as MSC. Moreover, certified products accounted for 12.2% in the seafood category in 2020. Since July 2018, they have devoted efforts toward the "Shrimp Farming Improvement Project (AIP)" in Sulawesi Indonesia to improve shrimp farming and restore mangroves.
They have also produced brochures, videos, and other materials promoting ethical consumption for JCCU members. Member co-operatives have also made initiatives, and a 2021 JCCU member survey found that recognition of the MSC label had risen to 42%.
In the spring of 2021, they started to sell certified items under their new brand "CO•OP Sustainable" series with a uniform logo, providing products that are "delicious, easy to prepare, and reasonably priced," and enabling consumers to participate in the conservation of fishery resources by choosing these products.
These initiatives have been widely praised, and they received the Champion Award for Leadership at the 3rd Japan Sustainable Seafood Awards (JSSA) held in October 2021.
Initiative to Promote SDGs at Corporate Cafeterias
Masato Yoshioka, Supervisor, Environmental Management Department,
Quality Control Center, Operation & Quality Control Group, AIM SERVICES CO., LTD.
<Key Takeaway>
- Various measures were used to encourage users to choose sustainable seafood, in addition to raising awareness and changing behavior
Aim Services first obtained CoC certification as a food services company in Japan, and has been providing sustainable seafood at corporate cafeterias in Panasonic since March 2018. As of March 2021, four clients continued to serve sustainable seafood at 20 locations, providing a total of just under 73,000 meals.
Through serving sustainable seafood in corporate cafeterias, these efforts aim to foster employee awareness of the environment and encourage behavior modification, so that they select sustainable seafood in everyday life as well as in the cafeteria. This has helped the clients contribute toward SDG 14: "Life below Water." Serving sustainable seafood in corporate cafeterias also enables users to contribute to environmental conservation easily by selecting these menu items, and the scale has grown steadily.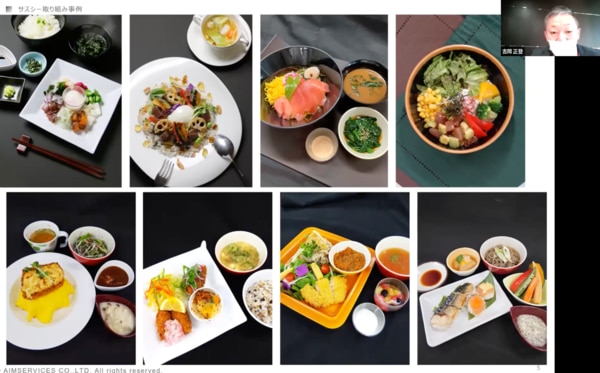 Menu items served in a corporate cafeteria
However, they have devised various other ways to persuade users to choose these products in addition to contributing to environmental conservation, such as experimenting with enjoyable presentation and appearance, flavors, and naming of menu items.
In the second half of the seminar, there was a panel discussion by Mr. Matsumoto and Mr. Yoshioka.
Panel Discussion
Takahashi: How did you communicate with consumers when launching CO•OP Sustainable?

Matsumoto: From the 1990s to the 2000s, we used its own unique logo for environmentally conscious products, but eliminated it once third-party certification standards became socially established. As was discussed with Aim Services, we are thinking about how to provide information to consumers in a form that is easy to understand rather than just saying it is good for the environment. Some say that the variety of eco-friendly labels is hard to understand, so we want to make it clearer by making the products part of a series.
Takahashi: There seems to be a broad spectrum of action on sustainable seafood among companies that offer catering services depending on their size and awareness, etc., but what sort of efforts is your company making to popularize sustainable seafood? Also, what challenges do you face in those efforts?
Yoshioka: We want to procure seafood that appeals to users who are deeply concerned with social and environmental issues. We also believe that learning about sustainable seafood through delicious, enjoyable corporate cafeteria meals might inspire interest in the background and issues. The problem is that only a small amount is used in the business sector, so a stable financial benefit has not yet been established. We are always thinking of potential solutions from the perspective of certification users and that of procurers.

Participant: Obtaining certification costs money, so how did suppliers respond when you asked them to get certified?
Matsumoto: Regarding CoC certification, I think the majority took it positively as a change in the social climate and a necessary step to take as a business and were willing to cooperate.
Yoshioka: We are partnered with companies that understand they should obtain certification if that is what is required of them as a business. To look at it another way, these efforts will not succeed if they do not cooperate, but it seems the market and number of peers are steadily growing.

Participant: I have seen data saying that the so-called Generation Y and Z like companies working on SDGs and solving social problems, and it seems that this has contributed to the growth in the brand value of both JCCU and AIM Services, as well as the owners of the cafeterias. Do you have any personal experiences related to that?
Yoshioka: Recently, there have been many clients who have already incorporated SDGs effort into their business, but also want to instill them among their employees, and have asked if there are any efforts they can make in the corporate cafeteria to disseminate and instill SDGs.
Matsumoto: JCCU members tend to be older, so Generations Y and Z are a minority of overall membership. However, since they are being educated on eco-labels and SDGs thanks to revisions of national educational curriculum guidelines, it is very important for the future of JCCU to work hard to communicate with the younger generations. We want to fine-tune our efforts with an eye toward future social changes.
Takahashi: When you look at the various efforts by companies, you can feel the changes in corporate cafeterias. While it may seem that fewer people are using corporate cafeterias due to COVID-19, I would like to know the secret to continue those efforts despite the circumstances.
Yoshioka: Obviously, the client's approval is crucial. When they thank us for regularly providing sustainable seafood despite the pandemic, it makes staying the course feel worthwhile. We emphasize selecting foods and ingredients which take into consideration the various issues brought to our attention by manufacturers, while always keeping the environment in mind, and sharing them through cafeterias.
Participant: From the perspective of the procurement side, are you satisfied with the current varieties of certified seafood?
Yoshioka: I think that is at odds with stock management. It is difficult to give a simple answer, but speaking purely in terms of the simple enjoyment of food, the more types of fish there are, the more options there will be. However, they are only options in the end, so I think that perhaps offering more types of fish may not increase awareness. There is no way of knowing if increasing the variations of menu items increases the number of meals served without trying it, but we want them to learn about the current state of fishery resources, and that they should choose sustainable seafood.
Matsumoto: Regarding the spread of sustainable production, I think it would be a good thing if there were more types of certified fish, but I would most appreciate a transition to sustainable production with oversight that enables certification of the materials used in the products we are currently selling.

In this session, representatives of the JCCU and Aim Services, industry leaders in sustainability activities, took the podium, and we asked about leveraging sustainability efforts in corporate branding. With the current social trend toward various businesses and consumers demonstrating an understanding of SDGs, etc., efforts toward sustainability will be becoming a necessity.
<<< Read the report of Session 2
>>> Read the report of Session 4
Original Japanese text by: Ryo Takagi