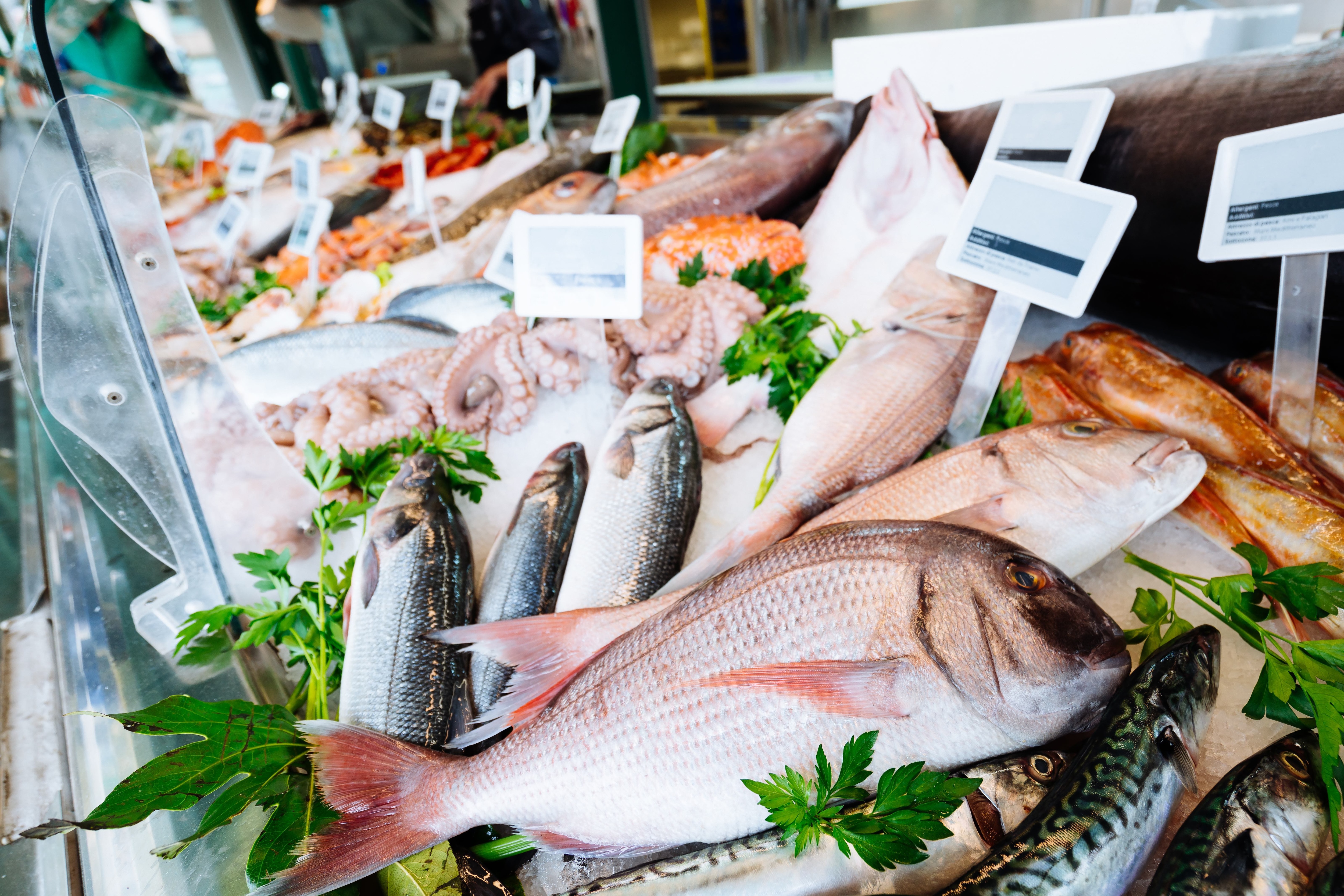 How to Leverage SDGs Goal 14 on Business? – Seminar Report 4
Webinar Series "Let's start working towards SDGs Goal 14: For sustainable startups on what seafood companies should do to avoid being left behind"
Session 4: Basic of Making Sustainable Procurement Policy


Organizer: Seafood Legacy Co., Ltd.
Facilitator: Ryo Takahashi, Business Engagement Officer, Seafood Legacy Co., Ltd.
The webinar series "Let's start working towards SDGs Goal 14: For sustainable startups on what seafood companies should do to avoid being left behind" is a series of four webinars focused on the practical action that each company can take to transition to a more sustainable future along with the seafood industry at large.
It provides useful information for companies in the seafood industry as well as those outside the fisheries industry that are looking to introduce sustainable seafood to their corporate cafeterias.
Topics covered during the webinars include the current environment surrounding sustainable seafood, the benefits of introducing sustainable seafood, the risks posed to a company's business continuity by neglecting sustainable seafood, as well as specific methods and approaches for integrating sustainable seafood into a company's existing operations and new businesses.
The following is a brief outline of the content of Session 4. (Read reports of Session 1, Session 2, and Session 3.)
The Sustainable Seafood Catalog
Kaijun Sun, Business Engagement Officer, Seafood Legacy Co., Ltd.
In December 2021, we launched the Sustainable Seafood Catalog, Japan's first B2B website dedicated to sustainable seafood.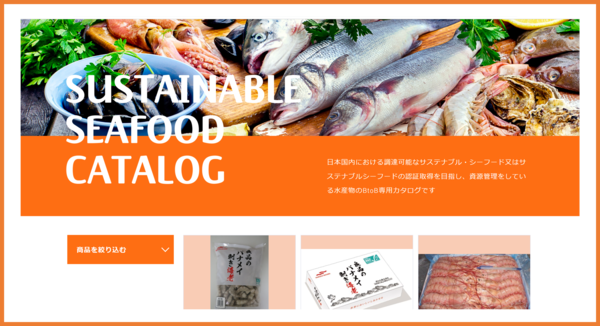 Top page of the Sustainable Seafood Catalog
The impetus behind this new initiative was voices from companies and producers. For instance, when we spoke to people involved in corporate procurement, they say that it is very tedious to find sustainable seafood or that the items are very limited, making it difficult for them to expand their menu. At the same time, we also hear from producers that despite having spent a lot of money on obtaining the right to carry certified products, this has not led to a rise in consumer purchases, making it a challenge for them to maintain their certification.
In view of this, we thought that it might be a good idea to launch a catalog like this to address the lost opportunities for both companies and producers and to promote sustainability in the seafood industry.
This catalog allows you to see at a glance of certified or FIP/AIP products that are available in Japan. By clicking on an item you are interested in, you can directly contact the company supplying it.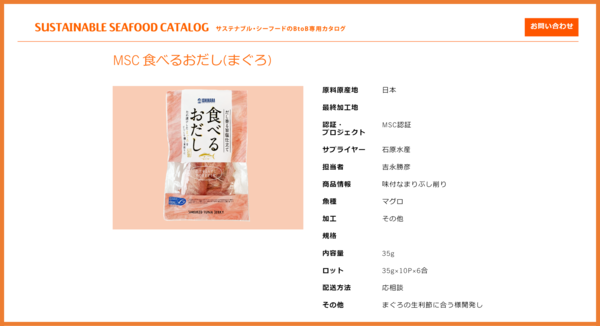 An example of an item's page
This saves buyers the time and effort of having to search for individual products while serving as a useful channel for producers to promote sales. As of February 2022, this catalog contains 70 items from around 15 different companies. Moving forward, we hope to expand the features of this catalog to include sales tools and create an integrated platform for promoting the sustainability of Japanese seafood.
Why is a Procurement Policy Necessary? Developing a Procurement Policy and Working with Stakeholders
Ryo Takahashi, Business Engagement Officer, Seafood Legacy Co., Ltd.
<Key Takeaways>
- A procurement policy sets out a company's basic principles and approaches that guide its purchasing activities (procurement)
- The responsibility associated with goods and services lies not only with providers but also with those who purchase and use them
- The development and implementation of a procurement policy is an effective risk hedge to ensure business continuity
The first half of the presentation explained what a procurement policy is and why it is necessary.
A procurement policy sets out a company's basic principles and approaches that guide its purchasing activities (procurement). There are four main advantages to developing, announcing, and implementing a procurement policy.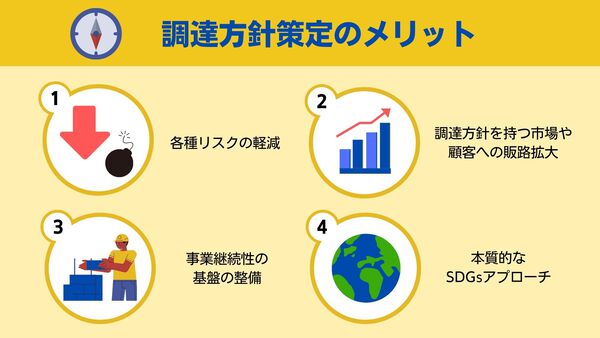 - It can reduce the risk of the company being considered to be complicit in stock depletion, the destruction of biodiversity, and human rights violations
- It allows the company to develop strategies to expand its sales channels to reach overseas markets and clients with procurement policies
- It allows the company to build a strong foundation for business continuity by eliminating ingredients that have a negative impact on the environment and society from its supply chain.
- It allows the company to adopt an SDGs-based approach to its business.
Today's society is plagued by environmental issues such as marine plastics, IUU fisheries, and bycatch, as well as human rights violations stemming from labor exploitation and animal welfare issues such as shark finning and the eyestalk ablation of shrimps. Suppliers and distributors of products are responsible for being aware of these issues and accurately determining the background of products they handle. 
Conversely, the following situations may occur if a company has not set out a basic procurement policy:
- If a material currently in use is depleted, the company may be held responsible as a purchaser
- The company may be entangled in incidents that involve human rights violations when engaging in price negotiations with suppliers
- The company may be unable to appropriately address any environmental or human rights issues at partner companies
To reduce the risks outlined above and ensure the continuity of their existing businesses, companies should develop and implement a procurement policy.
With this in mind, the presentation looked at some of the procurement policies that have been developed by Japanese and overseas retailers. One example in Japan is Aeon Group*1, a company that conducts regular risk assessments for its procurement and has adopted the Japanese Consumers' Co-operative Union's "Targets for 2030 and Responsible Procurement Policy (see: Session 3)."
The presentation also touched on the following three elements of a procurement policy for seafood products.
- Procurement of sustainable seafood
Example: Purchasing certified seafood products
- Increasing the amount of sustainable seafood available
​​​​​​​Example: Supporting FIP/AIP through making purchases
- Avoiding seafood with serious issues
Example: Understanding whether a company is complicit in environmental and social problems and avoiding its products accordingly
The presentation also introduced leading examples that show how the framework of a procurement policy can take the following into account.
- The areas covered differ from certification schemes
Biodiversity conservation, overfishing, human rights violations, etc.
- The areas not covered by certification schemes can be addressed through the use of various platforms
Rating schemes (e.g., Seafood Watch), platforms (e.g., FishChoice), alliance roundtables (e.g., ISSF), etc.
Q&A session
Q: Procurement policies seem to offer a very wide coverage in their scope. How long does it take to develop a procurement policy?
A: It depends on the company, but it is important to first create a roadmap based on the areas the company wishes to cover, as well as the current situation and specific objectives. It is also useful to consult with another organization to obtain objective feedback.

In this session, we touched on our company's Sustainable Seafood Catalog and discussed the importance of having a procurement policy. In particular, procurement policies have become increasingly important not only in response to environmental issues but also in response to social issues and current investment and financing trends. It is recommended that any development of such policies should begin with identifying the issues that the company wishes to address and utilizing certifications and various platforms.
Sustainable Seafood Commitment Template developed by FishChoice is one of the useful tools.
Original Japanese text by: Ryo Takagi