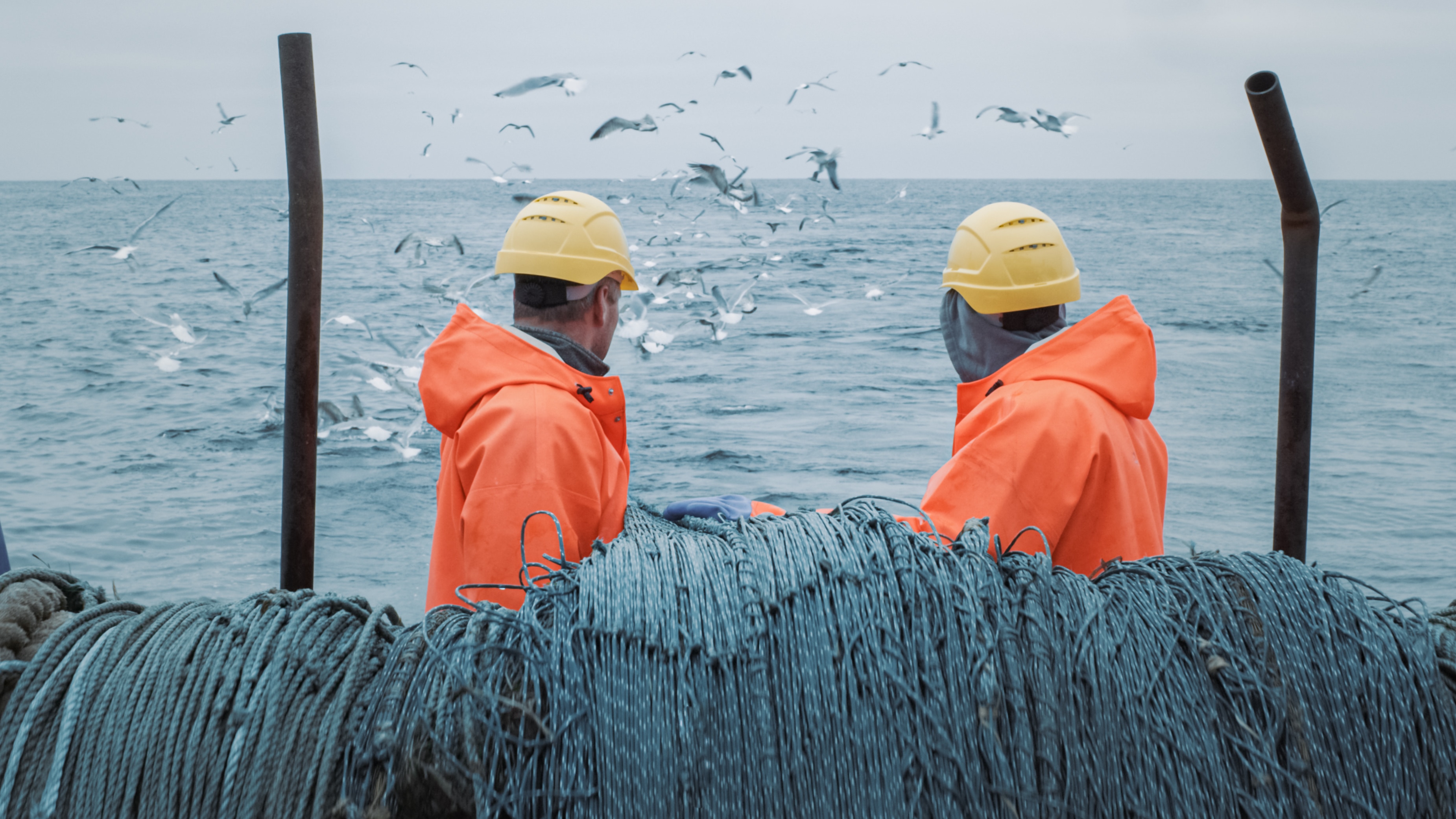 Seafood Legacy Welcomes the Enforcement of the Act on Ensuring the Proper Domestic Distribution and Importation of Specified Aquatic Animals and Plants
This is Wakao Hanaoka, the CEO of Seafood Legacy.
The Act on Ensuring the Proper Domestic Distribution and Importation of Specified Aquatic Animals and Plants (hereinafter "the Act") is coming into effect on December 1, 2022. This law aims to prevent the inflow of seafood caught by IUU (Illegal, Unreported, Unregulated) fishing from being distributed into the Japanese market. It is the world's third comprehensive anti-IUU control system after the EU IUU Regulation and the US's Seafood Import Monitoring Program (SIMP). Seafood Legacy welcomes this initiative as a step forward in protecting legitimate producers from unfair competition, building a system where the world's three largest markets firmly refuse IUU fishing, especially as these markets account for over half of all seafood traded internationally.
Urgent Issues of the International Community and IUU Fishing
The world population is expected to increase to 10 billion in 2058, peaking at 10.4 billion in the 2080s and stabilizing until 2100. With oceans covering 70% of the Earth's surface, this impending food demand is an urgent issue for the international community that requires a sustainable food system.
However, approximately 30% of the world's fishery resources are overfished, while about 60% are maximally sustainably fished. Only the remaining ten or fewer percent is still underfished, and this percentage continues to decline. This issue also threatens aquaculture, as many of its operations depend on wild fish for large quantities of feed.
The seafood industry's business model is driving natural capital to depletion and is pointed out its failure. With global food security under threat, countries worldwide are implementing various stock management measures to address this issue. However, IUU fishing disregards this spirit and slips through the net of the management, representing the greatest risk to achieving the objectives of proper stock management. Some estimates suggest that up to 31% of the world's catch (by weight) is illegally caught or unreported.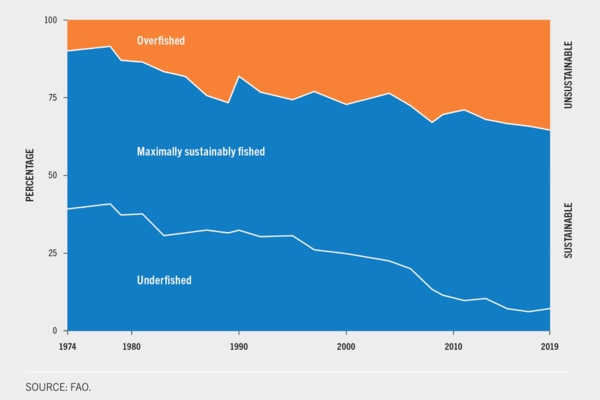 Global Trends in the State of the World's Marine Fishery Stocks, 1974–2019.
(Screenshot from "The State of World Fisheries and Aquaculture 2022" (FAO, 2022 Fig.23))
Significance of the Further Improvement of the Act
Target 14.4 of the Sustainable Development Goals (SDGs) states, "By 2020, effectively regulate harvesting and end overfishing, illegal, unreported and unregulated fishing, and destructive fishing practices and implement science-based management plans, in order to restore fish stocks in the shortest time feasible, at least to levels that can produce maximum sustainable yield as determined by their biological characteristics."
The world's two largest seafood importers, the EU, and the US have been the first to impose import regulations against IUU fishing. However, even though Japan's seafood import market is the third largest worldwide (in terms of value), it still lagged in IUU fishing countermeasures. It had been vulnerable to a large influx of seafood that was sourced from potential IUU fisheries and excluded from the US and the EU markets. It is presumed that the Japanese market became a place of unfair competition between seafood supplied by legitimate businesses and cheap imported seafood from IUU fisheries. In fact, Japan scored a low rating of 133rd out of 152 countries in the 2019 IUU Fishing Index.
The newly enacted Act contributes to eradicating IUU fishing worldwide. Furthermore, it protects domestic businesses pursuing sustainability by connecting the marine economy, local communities, and the marine environment as well as creating a market that rewards integrity. We see this initiative as a step toward fulfilling our responsibility as one of the top seafood markets.
The Next Steps to Eradicate IUU Fishing
- ​​Laws are only effective when properly implemented. Seafood Legacy calls for the urgent establishment of an effective management and regulatory system and a digitalized reporting system to minimize the burden on the businesses involved. The EU targets all imported fish species while the US targets 13 (as of December 2022), which account for approximately 60% of imports. Japan needs to extend its scope as soon as possible. As such, the Government of Japan is committed to reviewing this Act and its implementation every two years.
- The enforcement of the Act influences the international interest in strengthening and expanding cooperation among the world's major seafood importers to eradicate IUU fishing. Since the Act's enactment, Australia, the world's seventh-largest seafood importer, has begun considering implementing import restrictions against IUU fisheries. Japan's initiative has accelerated international movements, and the world expects Japan to coordinate and lead international cooperation.
- Business operators must actively support the correct implementation and further improvement of this Act to fulfill their corporate social responsibility. It also eliminates the risk from their seafood businesses, partner supply chain companies, and related investment/financial institutions indirectly or non-indirectly participating in IUU fishing. Furthermore, a traceability system in the full supply chain is now expected more than ever. As the world is taking notice, this trend has already begun in Japan. Several domestic retailers and seafood processing/distribution companies have already updated their corporate policies to exclude seafood sourced from IUU fisheries and establish a traceability system.
- The issues of IUU fishing tend to focus on the I: Illegal part, but "U: Unreported" and "U: Unregulated" are also of extreme importance to ensuring the sustainable connection between the seafood economy, local communities, and the marine environment. Resolving these two are inevitable in eradicating domestic IUU fishing and developing a growth industry. As such, there is an urgent need to review the use of the large seafood budget allocated for life extension measures, which is a stumbling block to reforming the seafood industry. The new stock management stipulated in the Fishery Act, revised in 2018 for the first time in 70 years, aims to utilize fishery resources sustainably and must be reliably spread and promoted.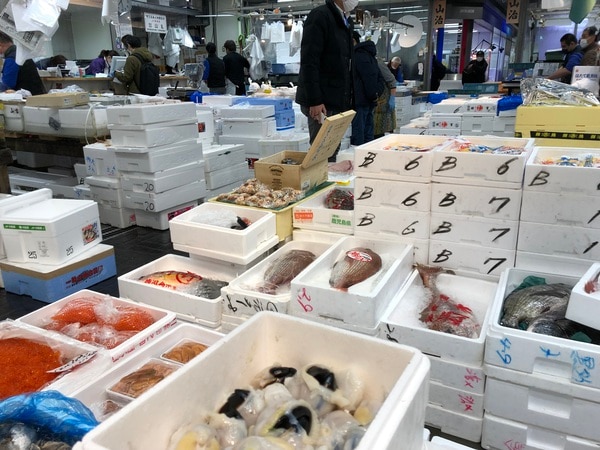 Complying with the Act guarantees safe and secure products. (Photo: Seafood Legacy)

Survival and Growth Strategies for Japan's Seafood Industry

Japan was once the world's largest seafood powerhouse. However, it is now forced to fundamentally reform its fishing industry structure. We must strategically maximize Japan's potential as one of the world's largest imported seafood markets boasting a rich marine ecosystem and create a seafood market that pursues environmental sustainability and social responsibility. In doing so, we will restore the local communities and the domestic seafood economy to prosperity and provide a sustainable supply of high-quality protein sources to the international community, which suffers from food shortage due to population growth, thereby lighting a ray of hope for the development of the international community. We believe that this is our fundamental survival and growth strategy for the Japanese seafood industry and our ideal form for its proud future.
To achieve this transformation, Seafood Legacy will continue to provide consulting and platforming services in sustainable and responsible seafood to seafood-related companies, financial institutions, government and international bodies, and civic organizations, with our purpose of "passing on an abundance of seafood, a symbol of the connections between local communities, the seafood economy, and marine ecosystems, to the next generation (legacy)."